Little Friends Vet is here for you!
Welcome to Little Friends Veterinary Services! We are your local, small town, family owned and operated veterinary hospital in beautiful Lyons Falls, NY. We are happy to continue caring for pets and families in a safe, comforting environment. We now allow families into our facility with their pet. We ask that you limit this to one or two family members. We no longer require a mask, but we have them available for folks who chose to do so. We do our best to keep our facility safe for our clients, pets and family members. We appreciate everyone's patience, understanding and kindness as we all navigate together our changing world.
We are open for all appointments including wellness visits, immunizations, illness and emergencies, puppy and kitten visits and feline surgical services including our community spay and neuter program and feline dentistry. Our appointments are filling quickly, so be sure to call ahead and please be patient as we are still very limited in staff. Be sure to leave a message if we are busy with another patient and we will do our very best to call you back as soon as we can.  We are also very excited to offer text messaging services!  Text us at 855-553-4416.  We will do our best to respond to text messages as quickly as possible.
At Little Friends, you will always have the same doctor and friendly, caring staff for your pets. For your pet's visit, you will receive a FULL HALF-HOUR with the doctor, not just 15 or 20 minutes! We strive to provide a safe and calm environment with a focus on what is best for your pets and family. We have the safest and most effective parasite preventatives, free home delivery of Purina diets with Royal Canin diets available at our office and the most accurate, up to date information regarding your pet's health and welfare. Call us today!
We now offer boarding for kitties! Your feline friend can stay in a luxury kitty condo with us while you are away. Kitty condos are super comfy with a separate area for the litter pan, soft bedding and a choice of perching shelves. Each kitty has his or her own condo. Your kitty will be in a quiet, warm, safe space with soft music and NO dogs anywhere. Safety is our utmost priority and since we are a veterinary facility, your kitty will be closely monitored. Call us today to book your kitty's luxury stay with Little Friends!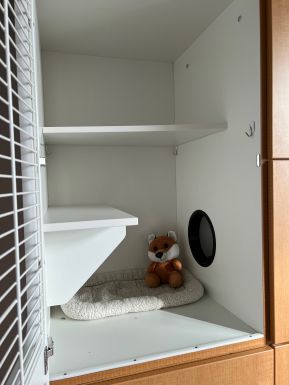 We are offering laser therapy and injections for arthritis
Little Friends offers the most up to date treatments for your pets. We now offer Photobiomodulation - commonly called laser therapy. Laser therapy targets your pet's damaged cells and helps them regenerate faster. Much like sunlight helps a plant product energy, laser therapy helps energize your pet's cells and relieve pain and inflammation. Some common conditions that can benefit from laser therapy are arthritis, back pain, dermatitis, wound healing and many more. Ask us today if laser therapy can help your pet!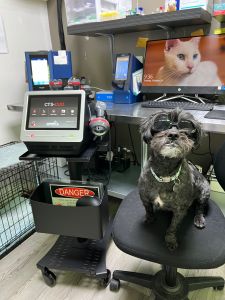 Hours are subject to change at this time.

Monday, Tuesday, Thursday & Friday:
9am to 5pm
Wednesday:
10am to 2pm

---
Who We Are
I'm a local girl, having spent much of my childhood tromping about in the woods around Old Forge at my Grandparent's camp. My husband, Pat, is a local boy from Rome. We live on the Moose River here in Lyons Falls in a little cabin we built next to the river – our favorite place! We are experienced whitewater kayakers and paddle the Moose regularly. We love the Northcountry, and enjoy gardening, hiking, snowshoeing, fishing and hunting as well as paddling.
I graduated from veterinary school in 1996 and have lots of experience over the years to make Little Friends the very best choice to care for your pet. I'm experienced in preventative care, internal medicine, behavior medicine, surgery and emergency care for both dogs and cats. I have a special interest in feline medical, surgical, behavioral and dental issues with advanced training in these topics. At Little Friends, we also care for "exotic" pets such as reptiles, small mammals and birds.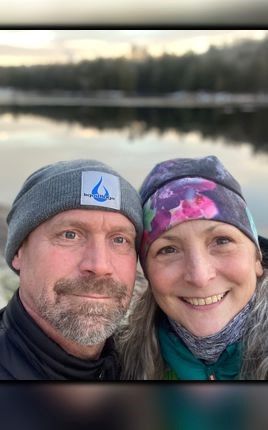 What Makes Us Different
We offer the very best care for your pet in a stress-free environment. We have a small, quiet office and take one appointment at a time so you and your pet can focus on your visit, not worry about other animals or people in a crowded waiting area. Dr. Underwood devotes a FULL HALF-HOUR to you and your pet - not 15 or 20 minutes like many other veterinary offices! We focus on what is best for you and your pet – offering options for all budgets. You will always have the same doctor to care for your pet so we always know what's going on and we do our best to get to know the families who come to us. We give you the time you and your pet deserve, one-on-one, with knowledge and care in a pleasant environment. We support our community with donations to school and community causes – we love our baseball and softball teams! – and we enjoy taking part in community events. Little Friends is YOUR small-town veterinarian!
Little Friends and Purina Vet Direct are teaming up for you...
Order the very best food recommended by Dr. Liane for your little friend - both prescription and healthy pet diets - with convenient free delivery directly to your home!
Click Here and enter enter Clinic ID: 5NE5D when you sign up.
It could not be any easier!
Feline behavior services
Declawing cats is now illegal in NY. At Little Friends, we can help with alternatives and guidance on managing scratching behaviors. Dr. Liane is your local feline expert!
Special focus on feline behavior issues – we offer behavioral consultations for cats for problems such as inappropriate elimination (not using the litter box) and aggression.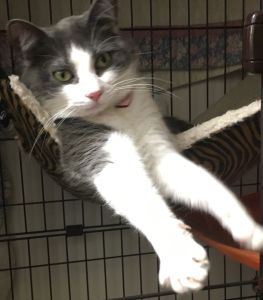 Advanced Imaging Services
for your pet with digital ultrasound.
Our top of the line digital ultrasound will allow us to check your pet's heart, or check for pregnancy, and much much more!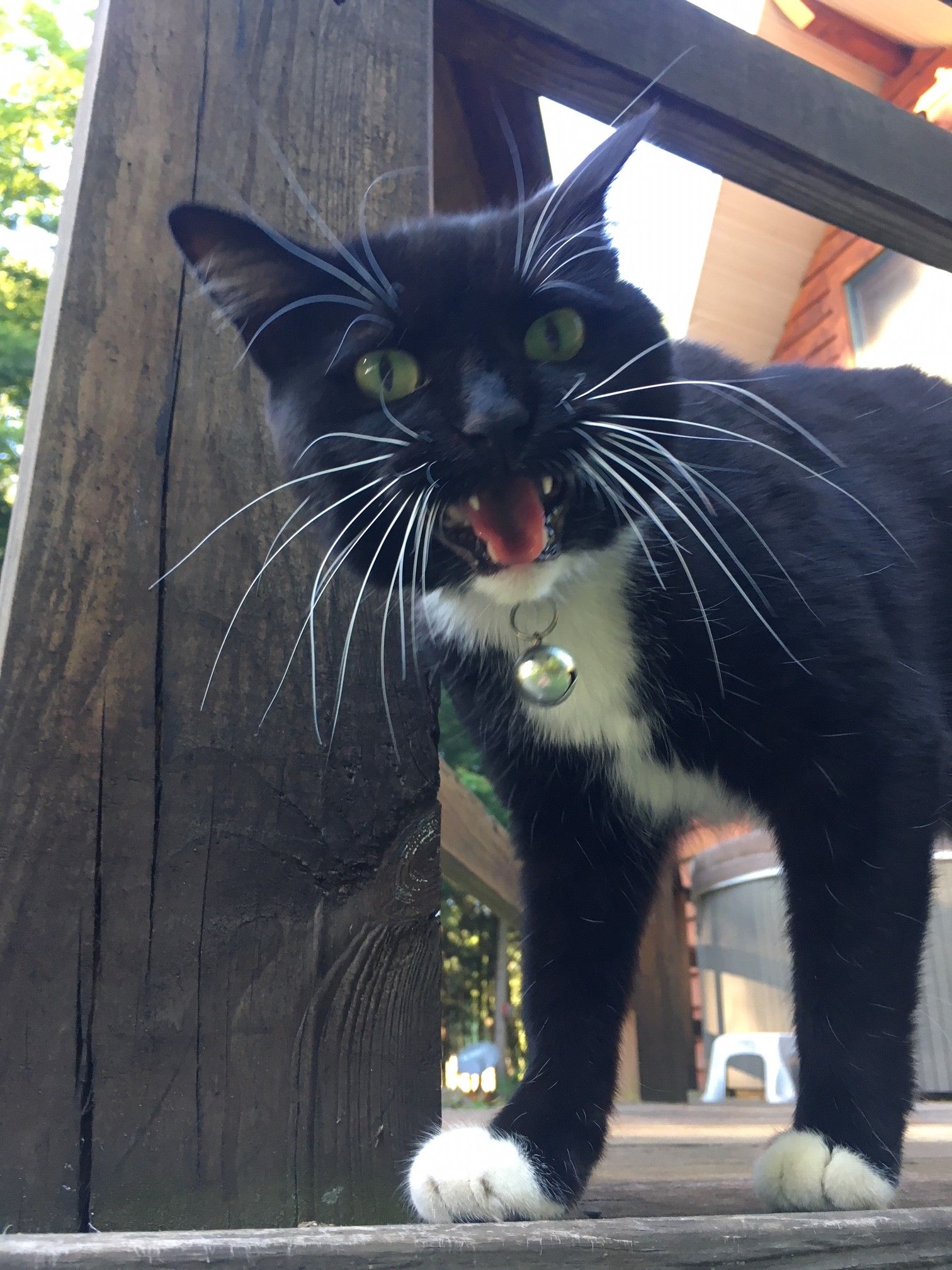 Panks says HEY!
Remember at Little Friends we offer our Community Spay and Neuter program for cats all the time and there is no need to qualify - it's for everyone!
The program includes a full examination, surgery, pain medication, vaccinations and dewormer!
Cost is just $165 for male cats and $265 for female cats
Call today for an appointment! 315-348-6389
Royal Canin prescription diets available
Remember year-round parasite prevention to keep your pet comfortable and your family safe! Ticks are active in winter and fleas can be present indoors. There are even new, invasive species of ticks that are large and aggressive - protect your pets and family today. Little Friends has safe and effective products for every budget!
Services We Offer
Care for pets of all ages – from new pet care to senior pet care.
We offer care for cats, dogs, small mammals, birds and reptiles – even fish!
Preventative health care including:

Examinations – annual wellness exams or if your pet is not feeling well
Vaccinations including Rabies and Distemper for both dogs and cats; Lyme, Leptosporosis and Kennel cough for your dog; and Feline Leukemia for your cat
Parasite prevention including flea and tick preventatives for your dog and cat; and heartworm preventatives for your dog
Laboratory testing including stool and urine testing, heartworm and Lyme testing, feline leukemia/FIV testing, and all types of blood tests.

Care for new pets, like puppies and kittens to provide a life-long plan of health and wellness
Care for senior pets with a focus on prevention and treatment of disease common to older pets
Diagnosis and management of chronic health conditions such as diabetes, arthritis, skin conditions and more.
Special focus on feline behavior issues – we offer behavioral consultations for cats for problems such as inappropriate elimination (not using the litter box) and aggression.
Training and behavior consultations for dogs and puppies.
Grooming services for cats including bathing, brushing, nail trims, sanitary clips and full lion cut clips.
End of life care
Surgical Services
We offer surgical services for cats including spaying and neutering, as well as more advanced surgery and all dental services for cats. For dogs, we will prepare him/her for his procedure by ensuring preventative health care and wellness or diagnostic care is current, then refer to local colleagues for surgery.
Emergency Services
For after hours emergencies, the following facilities are available:

Veterinary Medical Center of Central New York - www.vmccny.com (315) 446-7933 - available 24 hours a day, 7 days a week

Veterinary Emergency & Critical Care Center - Baldwinsville - (315) 638-3500 - nights and weekends

Waterville Veterinary Clinic - for clients to the south - (315) 841-4021 - nights and weekends

Northcountry Animal Hospital - for clients to the north - (315) 785-9505 - nights and weekends
Our current clients may contact us through Facebook Messenger after hours and we will do our best to respond when we are available.
Spay Neuter Now
Dr. Underwood partners with Spay Neuter Now to offer low cost spay and neuter services for dogs and cats for income qualified families. For cats, we offer this service for qualified families right at our office. For dogs, mobile clinics are provided in Lewis and Jefferson at other locations. The application must be submitted to Spay Neuter Now and qualified families will be contacted to schedule their pets. Click on the link for more information and to print or submit the application.